Jay's Story: Why couldn't God have taken me, instead of him?
Jay Skarphol had his post-retirement planned out.  But that was before tragedy struck.
Living and working in the oil fields of western North Dakota as a senior environmental health and safety specialist, Skarphol, a native of the Tioga area, wrapped up his long career in the Bakken region in July of 2011 to move to Fargo. He was 56. He and his wife, Jeanne, had purchased a home in Fargo three years earlier to be closer to their children and grandchildren. Jeanne was already living there, enjoying being a grandma and helping with daycare.
"My plan was to work part-time at Fleet Farm or Scheels for the discount on the guns and ammo and the clothes and ride things out that way," Skarphol says.
Fate intervened.
On Friday, May 25, 2012, Memorial Day Weekend, the Skarphol family was changed forever. Their eldest son, Trevor, was killed at a West Fargo construction site at 11:38 that morning. The lead electrician on the project, he was struck in the back of the head and right side of his body by a 28-foot, steel column weighing 1,452 lbs. He was 35 days short of his 31st birthday. He left behind his wife, Angie; son, Jaxon, age 8 1/2; and son, Bo, 2 years, 10 months.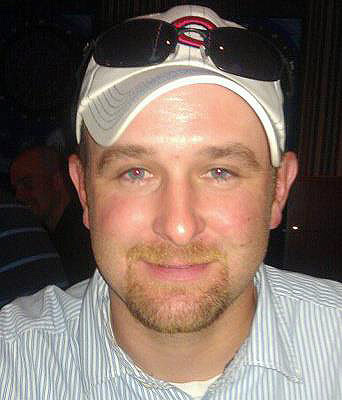 Trevor had planned to quit early that day and head to his cabin on Ottertail Lake. His father was the last family member he spoke with before the accident.
"Trevor called me at 9:30 to check on Bo because he was fussy that morning when he dropped him off at our home. That was our last conversation."
For Skarphol, the events of the day are blurred by emotion and grief. The first indication that something was wrong came in the form of a phone call. His daughter, Tennille, a surgical tech at a Fargo hospital, reported in a shaky voice that they had just received a Level 4 trauma call from Trevor's worksite, and that it involved one of the electricians.
Shortly after, Tennille's husband, Steve, called to say he was coming to pick up his father-in-law so they could head to the building site. En route, Tennille called again. Her message of four words forever ring in Skarphol's head: "Dad, it was Trevor!" By this time, the police had visited the hospital and informed Tennille and Trevor's wife, Angie, also a surgical tech, that the accident was fatal.
"I still hear her voice to this day," laments Skarphol. "A daughter is not supposed to have to tell her dad that he just lost his son. That's when everything got real—I mean it really got real!"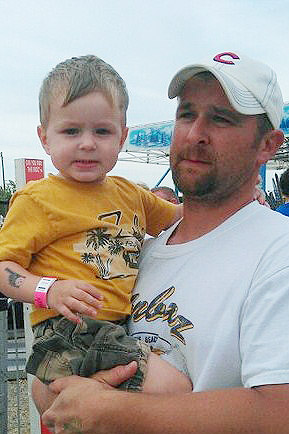 Skarphol and his son-in-law turned their vehicle around, as now the task at hand was to inform Skarphol's wife, Jeanne, of the tragic news. "How in the hell am I gonna tell her?" he remembers asking himself. "My voice was cracking when I came through the door. She was in the hallway and I caught her and grabbed her and said it was Trevor. She reacted the way a mother would react."
The next stop was the hospital, but Trevor was never brought there—his body was transported by the first responders to the "on-call" funeral home. It was not the funeral home the family preferred, so Trevor was transported again.
"It was between 3 and 4 when we finally saw him," recalls Skarphol. "We rode to the funeral home with Angie's mom and dad. I don't even remember driving home from the hospital—no recollection whatsoever!"
To this day, Skarphol's fatherly reaction to the tragedy is, "Why couldn't God have taken me, instead of him? He was hitting his stride and things were really going good: he finds a great gal, he's got a little family, he's lead electrician on a job, and they've got a place on a lake. Then this happens and everything comes crashing down!"
Skarphol takes solace in the fact that Trevor died instantly, that he didn't suffer. As Skarphol walked toward the coroner that day at the funeral home, she read his thoughts and immediately reported, "He didn't feel a thing."
"That gives me a little peace of mind, that he went like that," says Skarphol.
Skarphol's background in safety was both a blessing and a curse. On the blessing side, knowledge and experience helped him understand how things unfolded that day at the worksite; on the curse side, it added to his anguish as he realized the tragedy was preventable.
That prevention piece is precisely what brought Skarphol back into safety work. As the events of May 25, 2012, continued to churn in his mind, he felt "called" to send Chuck Clairmont, the executive director of the North Dakota Safety Council, whom he knew from attending safety conferences, an email: "Hey, you got anything going in the eastern part of the state?" That was six months after losing Trevor. The email was sent at 2 pm; Clairmont got back to him at 9 the following morning.
"My feeling was that if could do something in safety to turn someone's head to make them think about what they're doing, and to make the right choices, then it's all worthwhile," says Skarphol.
Skarphol, 64, has been employed by the Safety Council as a safety consultant for the past seven years. He's officially part-time today, and Fleet Farm and Scheels are completely out of the picture. Dedicated to his new mission, Skarphol says, "I'll do what I do as long as I can walk and talk!"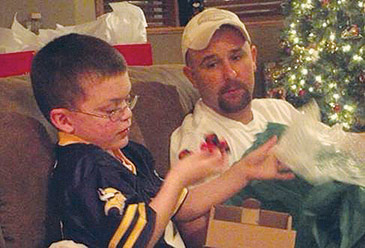 Now with four grandsons, Skarphol strives to be an attentive grandfather. Contributing to that is the obligation he feels to be there for Trevor. "I've got to pick up the slack for him," he says.  "As the boys have grown older, it's become a balance between my time with them and my mission to keep tragedy from happening to someone else."
Some build monuments to commemorate loved ones following loss; Skarphol's monument is his work in safety, helping keep families whole.